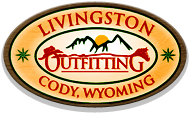 Livingston
Outfitting, Inc.
29 Pack Saddle Trail
Cody, WY 82414
307-8
99-3057
email us
About Us
Lee Livingston was born and raised in Cody, Wyoming. Being on horseback since before he can remember and growing up in the shadow of the Rocky Mountains, naturally led Lee into a career that combined those two passions. He has been professionally guiding horseback hunting and summer trips since 1985, including four years guiding big game hunters in Alaska. He has owned and operated his own outfit in Wyoming since 1995. Fair chase, quality rather than quantity, and the philosophy that hunting means so much more than killing, are the cornerstones of his operation. Lee, along with his horses and mules, and crew of dedicated professionals, has made Livingston Outfitting one of the premier horseback outfits in Wyoming
Lee and a crew of experienced mountain hands make up the premier outfit for horseback hunting adventures in Wyoming.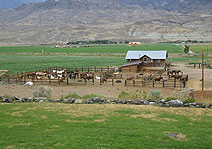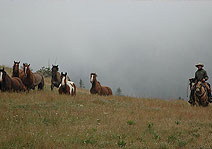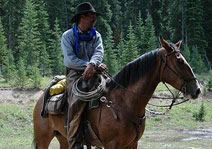 About the Outfit
The Camps
With three wilderness camps, and a hunting lodge to serve you from, we're sure we have what you're looking for in a hunt. Our wilderness hunts are the old–fashioned pack in style hunt. Camps consist of big comfortable canvas wall tents with wood stoves, tables, and cots. There is also a cook tent, dining tent, and assorted gear tents. At the lodge you will find clean comfortable rooms, kitchen/dining area, and a large great room to sit around in at night and swap hunting stories. It is located at our base corrals, which allows us to saddle up and ride from there if we desire. These hunting camps are staffed with an experienced cook who'll keep plenty of hot wholesome meals on the table to help fortify you for those long hunting days. A wrangler is on hand to help with camp chores and keep horses gathered up so you will have a fresh mount every day. Top this off with the best guide staff around and you have the makings of a first class Rocky Mountain hunt.
The Crew
We stand behind the statement that we have the best guides and crew around. Most of our guides have been with us 10-15 years. Add in a few young go-getters, and we have a well rounded staff. The combination of experience and energy insures we will have a guide that is compatible with hunters from all walks of life. Our guides are not only hunters themselves, but are experienced horsemen and outdoorsmen and are prepared to make sure their clients have a safe, enjoyable, and productive hunt.
The Horses and Mules
Horses and Mules are the backbone of our business We look upon them as partners in our operation and realize with out our four-legged friends, we would not be as successful as we are. We run abig enough string to insure that every hunter and guide are assigned two animals. This means you will be riding a fresh, well rested, mount every day. This greatly enhances the safety and productivity of your hunt day.