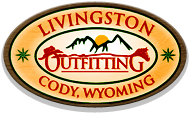 Livingston
Outfitting, Inc.
29 Pack Saddle Trail
Cody, WY 82414
307-8
99-3057
email us
Hunts
Thank you for your interest in our guided hunting operation in Northwest Wyoming.

With two wilderness hunting camps and a hunting lodge to serve you from we're sure we have what you are looking for in a hunt. We are first and foremost a horseback hunting operation. Our Wyoming wilderness camps are packed into and hunted from with horses and mules and horses are the main mode of transportation during the lodge hunts.

Our wilderness hunts are the old–fashioned pack in style hunt. Camps consist of big comfortable canvas wall tents with wood stoves, tables, and cots for sleeping along with a cook tent, dining tent, and assorted gear tents. These Hunting Camps are staffed with an experienced cook who'll keep plenty of hot wholesome meals on the table to help fortify you for those long hunting days. A wrangler is on hand to help with camp chores and keep horses gathered up so you will have a fresh mount every day. Top this off with the best guide staff around and you have the makings of a first class Rocky Mountain hunt.

At the lodge you will find clean comfortable rooms, kitchen/dining area, and a large great room to sit around in at night and swap hunting stories. It is located at our base corrals, which allows us to saddle up and ride from there if we desire.

Below you will find current references, prices, and information on how to book a hunt with us. Please feel free to contact us with any questions.

We look forward to having you hunt with us,
Lee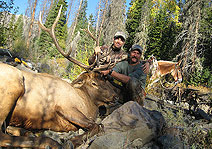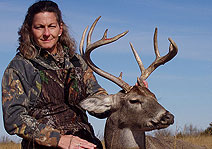 Elk
Our elk hunting is unsurpassed, with two wilderness camps and a hunting lodge to work from, we have a lot of country to hunt. This allows us to rarely have more than six hunters in camp each hunt. A great portion of our territory was burned in the forest fires of 1988 and natures regeneration since the fires has produced some excellent habitat for elk and deer. We are seeing big healthy animals with good antler mass. We generally are taking mature heavy five and six point bulls.
Bighorn Sheep
Sheep tags are hard to draw and sheep can be hard to hunt, but our passion for the hunt coupled with years of experience, gives you the best chance of going home with one of these majestic trophies. Our base camps are in the heart of some of the best sheep country in Wyoming. We hunt not only from these, but from spike camps as well.
Mule Deer
When it comes to deer hunting we have some of the best in the Rocky Mountain west. Our deer hunts are conducted from our hunting camps and a lodge in the same mountains adjacent to Yellowstone Park where we hunt elk. In fact, during these hunts you stand a good chance of seeing Elk, Bighorn Sheep, and all sorts of other wildlife. Because our Mule Deer herd is migratory, we combine stand hunting with the classic spot and stalk hunt. If you have patience and are ready to shoot straight, you stand a good chance of going home with a dark-horned high mountain Mulie.
Antelope
The Pronghorn Antelope is truly Wyoming's trophy. Our Antelope hunts are conducted from the lodge or motel, either in 4X4's or horses. Yes, we do hunt antelope with horses. It is a great experience and the best way to access country that vehicles can't get to.


Kansas Whitetails
Kansas produces some great Whitetail bucks and we offer semi-guided hunts on over 3000 acres of private ground. This country in Southern Kansas is awesome Whitetail habitat with rolling hills, Cedar timbered draws, and hardwood creek bottoms. Hunting is either from elevated box blinds, ground blinds, or still hunting. This is a great hunt and we are personally on every hunt.