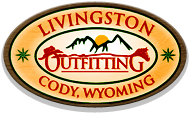 Livingston
Outfitting, Inc.
29 Pack Saddle Trail
Cody, WY 82414
307-8
99-3057
email us
Info/Rates
To Book a Hunt We Need:
A completed reservation form along with a $1000 retaining fee. This fee reserves a hunt with us conditional on license draw. This fee is applied to your hunt once you draw your license. If you are unsuccessful in drawing a license, this fee is either refunded in full or held for a hunt the following year.

Reservation forms can be obtained online here or if you contact us and we will gladly send one out to you.

APPLICATION FOR LICENSES: We prefer to handle all license applications. In order for us to do this we will need your license fee and the completed license application form. If you choose to apply on your own, the best way is to do so online at the following site: https://gf.state.wy.us/elsapplication/ELSWelcome.aspx. If you have any questions, please don't hesitate to contact us. If applying online is not an option, contact us and we will gladly assist you.
License application periods:
Elk

- January 1 - January 31

Deer and Antelope

- January 1 - May 31

Big Horn Sheep, Moose and Goat

- January 1 - February 28

Points Only

- July 1 - October 31
Refunds:
If you do not draw your license, the Wyoming Game and Fish will refund your license fee minus a $14 charge. Our retainer of $1000 is refunded in full or held for a hunt the following year, whichever you prefer.
Deposit -- After Licenses are drawn:
Once you have drawn your license, we require 1/2 deposit for a firm booking. The final balance in CASH or CERTIFIED FUNDS is due at our orientation meeting the evening prior to the beginning of your hunt. If you elect to forward remaining balance before arriving in Cody, you may do so with a personal check 30 days prior to arrival or use the PayPal link below (4% fee automatically added if paying with PayPal). All monies received after license is drawn are non-refundable.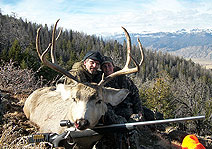 What is Included in your Hunt:
All food and accommodations while in camp or lodge
Guide Service
Trophy and meat care while in the field
Meat transportation to local processor
Trophy transportation to local taxidermist



What is not Included in your Hunt:

Hunting licenses
Meat Processing
Taxidermy
Gratuities to the guides and camp staff
Hunt Dates and Prices
ARCHERY ELK
7 DAYS .....................................$6000 2 on 1
Hunt Dates
SEPTEMBER 10-16
SEPTEMBER 19-25
---
RIFLE ELK
7 DAYS ..................................... $6000 2 on 1
Hunt Dates
SEPTEMBER 30-OCTOBER 6
OCTOBER 8-OCTOBER 14
OCTOBER 16-OCTOBER 22
(mule deer can be included on the Oct. 16-22 hunt for an additional $500.00)
---
ANTELOPE
5 DAYS ..................................... $3500 2 on 1
Hunt Dates
SEPTEMBER 01-SEPTEMBER 05
SEPTEMBER 07-SEPTEMBER 12
NOVEMBER 01-NOVEMBER 05
NOVEMBER 06-NOVEMBER 10
---
LODGE MULE DEER
5 DAYS ..................................... $3750 2 on 1
LODGE MULE DEER HUNT DATES
OCTOBER 30-NOVEMBER 3
NOVEMBER 6-NOVEMBER 10
---
COW ELK
3 DAYS ..................................... $2000 2 on 1
Hunt Dates
NOVEMBER - DECEMBER
---
BIG HORN SHEEP
10 DAYS ..................................... $9500 1 on 1
SEASON
SEPTEMBER - OCTOBER (call for hunt dates)
---
NOTE - All prices subject to a 3% public land use fee
WE NEVER HAVE AND NEVER WILL BASE SUCCESS ON KILL ONLY.
One on One hunts are available for all species for an additional $200 per day
Visit our
contact form
for more information