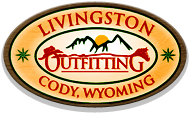 Livingston
Outfitting, Inc.
29 Pack Saddle Trail
Cody, WY 82414
307-8
99-3057
email us
Testimonials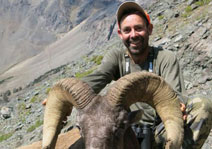 After 15 years of applying for a Wyoming bighorn sheep permit, OL Editor Andrew McKean finally drew this year. Come with him to the high country east of Yellowstone National Park for this once-in-a-lifetime hunt.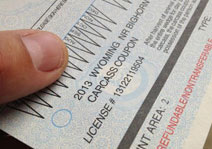 I've been applying for rams in the Cowboy State longer than I've been a father. And I've become accustomed to getting my refund in the mail every spring. But this year, the envelope from Cheyenne was fatter than usual. Inside was a backcountry hunter's version of a Lotto jackpot.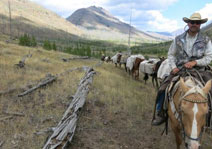 I drew in Unit 2, located between Yellowstone Park and Cody. Because it's predominantly a wilderness unit, nonresidents are required to hire an outfitter. I settled on Lee Livingston (livingston-hunts.com), on the strength of recommendations but also his reputation as a no-nonsense backcountry horseman.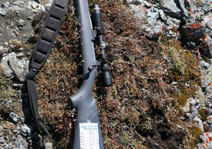 I struggled with my choice of rifle, and prior to that, about whether to hunt with my bow. But I settled on what I expect to become a classic mountain rifle. It's a new model from a new company, Forbes Rifle, LLC (forbesriflellc.com). Longtime mountain gun enthusiasts are familiar with West Virginia gun maker Melvin Forbes and his New Ultra Light Arms. The new Forbes Rifle is a semi-production cousin of the NULA. I chose a left-handed model in .30/06. The rifle weighs just under 5.5 pounds and fits me like a custom gun. I topped the rifle with a Leupold 4.5-14 VX-III scope. You'll see on this photo from the field that I taped a bullet-drop table to the stock to remind me of holdover at various yardages.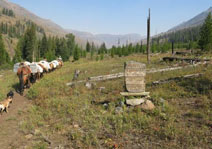 We trailed in to Wyoming's backcountry a couple days before the Sept. 1 opener. The crew included Lee Livingston; his 18-year-old son Wesley, who wrangled for sheep camp; my buddy Mark Copenhaver from Helena, Mont.; and myself.
Base camp was a clearing along the North Fork Shoshone River. It's a historic place. It's the site of Buffalo Bill Cody's last hunting camp, exactly 100 years ago. Buffalo Bill, along with several other dignitaries, brought Prince Albert of Monaco here to hunt bear and elk. They had a big time, and blazed a giant spruce tree with the name "Camp Monaco," the date, and a grizzly bear print. That tree stood here until the fires of 1988 killed it.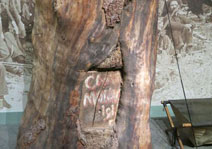 Later, the section of trunk containing the historic blaze was cut out and flown to Cody. It currently sits in the Buffalo Bill Historical Museum, and anchors a remarkable exhibit of Buffalo Bill's life and times. Hunting out of Camp Monaco a century after Buffalo Bill stalked this same country gave me a sense of context. When he was here, this was a verdant forest. A quarter century after the apocalyptic fires of 1988, this is now a burned-over landscape of charred spars and deadfall.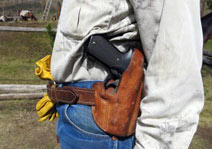 Still, there's a lot of wildlife back here. Elk, mountain goats, moose, mule deer, and sheep all find places to make a living in the wilderness.

Grizzlies, too. This area has the highest concentration of grizzly bears anywhere in the Lower 48. I carried bear spray. Lee carried something with a little more bark, a .45.
It takes a lot of looking to find animals in the huge country. Every day started the same way, well before light. We'd cook breakfast, saddle horses, and ride to high ridges where we could glass rock faces, avalanche chutes, and alpine meadows for sheep. We'd glass all morning, take a break in the middle of the day, and then glass west-facing ridges all afternoon and evening.

I had two main spotting scopes. My main spotter is an 80mm Zeiss Victory DiaScope with a 20-75-power eyepiece. This world-class optic was actually a gift for winning Zeiss's Outdoor Writer Award in 2012, and it's a hunting tool I cherish. My other scope was Meopta's new MeoStar S2 82mm spotter. The Cabela's branded version of this scope won Outdoor Life's Great Buy award this year. Both acquitted themselves marvelously in sheep country.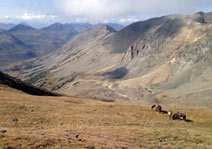 For hours every day, I was glued to my glass. The scanning paid off, though. We spotted a couple dozen ewes and lambs on one long ridge system, and three rams on another. None of the rams was the thumper I was waiting for, but we resolved to climb to them by the end of the week if we didn't see anything better.

Finally, midweek, Lee played a hunch. He had heard about a lone ram in a high basin. The rumor didn't square with his expectation of September rams, which he says are almost always associated with timber. They gravitate to stringers of high-country timber for cover and shade. But the hunch was worth checking out. So while Mark and Wesley went one way to glass a different ridge, Lee and I saddled and rode miles up the drainage.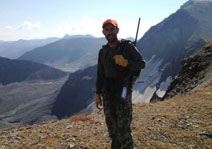 We glassed the basin for what seemed like an hour, and just as we were about to get back on the horses and trail back down to camp, I scanned the very highest meadows, far above timberline. Almost like it was scripted, my binocular settled on a bedded sheep. It had horns. One look through my spotter confirmed it was a good ram. We saddled up and rode to 10,000 feet, then got off and hiked to the top of the basin.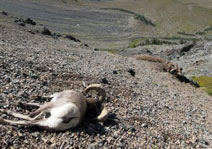 When we finally peered into the basin, the ram was gone, but I soon found him, picking his way among cliffs at the bottom of the bowl. I made a heart-pounding stalk, and finally had him in my scope at 304 yards.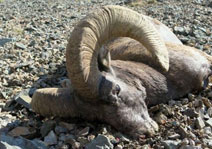 It took two shots, but he was down. Unfortunately, he wasn't down for good. He cartwheeled on the pitched slope, finally self-arresting in the talus by one horn. It took me a half hour to climb down to him.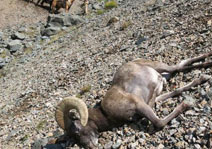 And it took Lee another hour to lead the saddle horses and pack mule down to the ram. I argued for packing the sheep up to the basin, but if Lee can't use horseflesh for work, he's simply not happy.
Finally, I had my ram, after 15 years and untold amounts of work. You can see in this shot how steep the country is. I still argued against taking horses down this, but Lee asked if I could ski. "Good. Then you'll do fine." And that's all he said about it.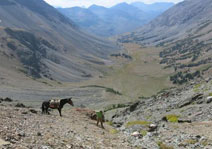 But Olive the mule had plenty to say, and she expressed herself with great reluctance. All three steeds were wild-eyed and nostril-flaring. Every step they took knocked 20-pound rocks to the valley below. It was a long, spooky descent, really more of a controlled fall than a hike, with Lee leading Olive and me leading our saddle horses.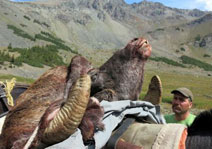 But finally we made it. The horses' hocks were bleeding. My knee was ripped and my boots shredded. But we retied the load at the bottom of the mountain and started our long, heroic pack back to Camp Monaco.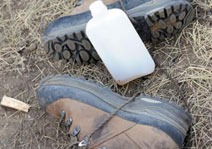 Back at camp, I kicked off my Lowa boots, retrieved a little flask that I was saving to celebrate, and relayed our adventure to Mark and Wesley.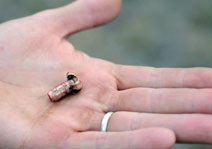 That evening, I hung quarters and helped cape out the remarkable head. I found this bullet in a rear quarter, a perfectly expanded slug from the 180-grain Federal Trophy Copper load I shot.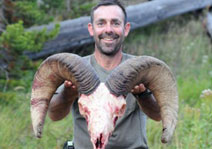 I haven't stopped smiling yet. He's a grand old ram, 9-1/2 years old, who lived and died in the world's most gorgeous country. I'm counting the days until my next sheep hunt, but I don't expect it to be in Wyoming. I can't imagine how I'd top this animal or this experience. It's time to let another hunter have the opportunity.
Andrew McKean
Hunting Bighorn Sheep in the Wyoming High-Country
---
Lee,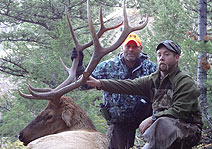 I just wanted to take a moment to let you know how very pleased I was with the Elk hunt I had. I shot a great bull, larger than I ever dreamed. I know first hand that a hunt is never measured by the animal you take- that is just a bonus. That said, my hunt was filled with many bonuses. The first person I want to recognize was my guide. Seth is a true elk hunter and outdoorsman; his knowledge of the terrain, horsemanship, and ability to prepare and pack out an elk more than impressed me. I could not have asked for a better guide. From the moment I arrived at your ranch I was treated like family. Your staff was a joy to be around. Our camp was clean and very comfortable. We ate like kings. Our cook Alden was like a fine dining Chef. Our camp wrangler Liam was dedicated and willing to always go the extra mile. Everything was perfect.

I want to thank you for making my first wilderness hunt everything I wished it to be.

I will be back to hunt with you!

Sincerely,
Trace Erickson
---
Hi Lee,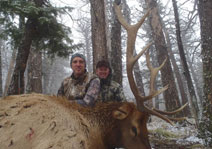 Just wanted to let you know that Joel had another fantastic trip to Wyoming. Elk Fork proved to be both beautiful and productive as we were into bulls every day. We both killed 6x6 bulls but not the biggest ones we saw! That is hunting I guess. That makes 4 for 4 on my trips and 3 for 3 on Joel's!

The stock was as dependable and as hard working as ever. The camp staff was fantastic. Seth and Auden were very hard working and the food was the best yet. They kept a tidy camp and more importantly everyone had an enthusiastic and positive attitude which always helps after a long day on the mountain.

I continued my tradition of waiting to the last minute on the last day to kill my elk, because of course, I don't want to rest any while in the mountains!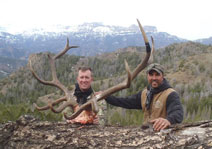 As for our guide, what can you not say about Nate? He is a first class Christian human being, who loves what he does and is really good at it. I can't tell you how much I enjoy spending time with him.

I left my horns in your barn and my cape in your freezer. Seth said he would arrange to have them prepped and shipped to me. Please give me a heads up on when to expect them and what I owe you. I was hoping he could just fed-ex them?

Thanks again for the memories and I'll see you in Dallas come January.

Peace,
Roger
---
I'm sincere when I tell you that you run a first class operation. We've hunted quite a bit with numerous outfitters and I've got to tell you I was impressed with all of your guys in camp with us that week. Neither the weather nor the elk cooperated very well but we can't hold your guys responsible for that. They all busted their tails to make sure we had a good hunt… and we did.

Sterling did a great job of helping us with Jim's horses and even had a fire going for us in our tent if he knew we'd be late back to camp.

Kim did the best job of any cook we've ever encountered and his attitude was great. I think he really enjoys what he's doing.

Once Jim and I convinced Landon that we were 20 yrs older than him and he was foot taller than we are we got along great. He really worked hard to find us some elk and we both enjoyed spending the week with him…I'd hunt with him anytime and anywhere.

I do want to thank you for the advice you gave all of us that first evening we met: "Don't pass up an elk the first of the week that you would gladly shoot at the end of the week"…Attached are a few pictures.

Thanks for everything; we had a great hunt.

Mike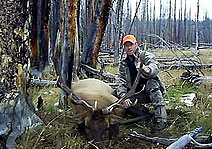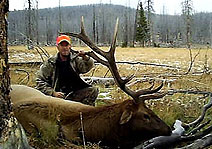 ---
Lee,

Nice hearing from you. Here are Bob's pictures, my battery went dead the 1st day. Anyhow want you to know we all had a great time. A wilderness hunt is like no other, it was tough, I will be 62 yrs. tomorrow and I am really pleased that I had Jim for my guide. I am sure I slowed him down some but I still made it to the tops & down. He and all the guys and yourself were a pleasure to be around. The camp was in a real nice setting ,camp food was great (Eric) wrangler was great, the LIVESTOCK were super! I have a few horses (cutting blood line), but your mountain horses and mules are, well I can't even come near to compare, it blows my mind how strong and sure-footed they are. Yes I would come back and I would recommend other hunters. You run a great hunt. See you at a show. E-MAIL me when you come down.
See you.
Nolen Hilton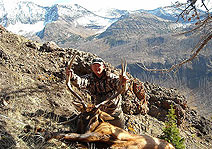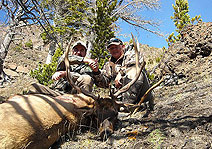 ---
Lee,

I would like to thank you and your exceptional staff for an unbelievable experience. Although the weather was hot, your guides managed to account for three bulls and one miss. This equated to a 100% opportunity for those who hunted. I excluded myself from the count as I was sick for 2 ? days and did not get to hunt as much as needed. I could not however think of a better place to be sick. Even though I felt very bad, the camp atmosphere made it tolerable. My son and I will indeed return for a follow up hunt.

Everyone of your staff were exceptionally good at their job, but I was especially impressed with Brian. On day one Brian guided a single hunter to a nice bull in a difficult location. Even at his age, he was more than a match for any of us. For the remainder of the trip Brian did what he could to try and help me get an elk. He knew I was not feeling well, but he managed to take me to some beautiful spots in hopes that we could catch a passing elk. The experience was great. Any shortcomings to my hunt were due to my being sick and a lack of good physical condition on my part. It was one of the best trips I have ever made.

Allen was amazing as well. He fixed some of the best meals you could imagine. He also provided many laughs for everyone. I think it is great that though he cannot keep up with the younger guides, he still has skills that let him remain a valuable part of the team. He was a wealth of information and advice.

In regards to Eric, all I can say is I would not want his job. He was the first up in the morning and the last down at night. It was really nice to wake up to a warm tent as Eric would light it each morning. Eric was great to sit and visit with.

John and Jim were obviously very good as well, but I did not have as much contact with them as I did the others. John guided me one day into Silver Tip Basin, and that was beautiful. He continued to guide Chris for the remainder of the hunt. Chris did not get an elk, but he did miss one at a little over 300 yards. Opportunity is all that can be asked, and opportunity was provided. Chris had a great time hunting with John.

I hope your team has a safe and successful season, and I look forward to hunting with you again in 2012. I hope Brian is still guiding for you at that time, as I would probably make a special request for him.

Thanks Again,

Bobby Newmann
---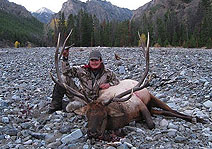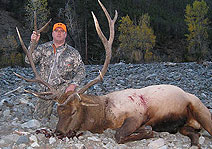 Lee,

We had an awesome trip! I understand the weather made it very tough hunting for most but thankfully we both scored on good bulls. Not sure if you heard Kent's story yet but it is an entertaining one. My bull was a case of right place at the right time but I fully credit the success to my guide, Nate. He actually keyed in on the bull's presence by smell! Had he not been aware, we would have surely spooked it without knowing. Make sure you keep this guy happy. He is a good one and I hope to get the opportunity to hunt with him again! Camp life was great from the food to the conversation. Horses were exceptional as well. Could not have done it without them.

This hunt is the real deal. It is tough but a great experience that I would recommend to anyone! Photos attached.

Regards,

Heath Till
---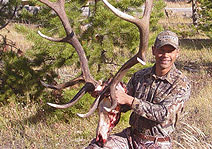 We had to weasel through four other bulls to get to this one. Our bugling, raking and incessant cow calls were too much motivating him to confront the challenger without hesitation. He was on us in seconds requiring a hard cow call to stop him at 15 yards. The arrow blew through arrested only by a natural formation beyond the animal. Smarting but confused the bull bolted then composed himself directly between my partner and I. The large entry and exit holes confirmed finality. The blonde titan staggered away, bedded then took his last breath. He was a fighter with much of his forehead hair rubbed bare and numerous neck/body scars from encounters with other bulls. He was a beautiful gift.

In addition we saw wolves, bears (grizzlies and black), mule deer, and bison. It was a great and humbling opportunity.

The outfitter, Mr. Lee Livingston, has always provided good guides and Mr. Landon Selby was excellent! His knowledge of elk, the area, horses, spotting, and calling were matched only by his patience, humility and hard work. A better guide will be hard to find.

September 2011 can't get here soon enough.

Aloha,

Dave Anana
---
Lee

Words cannot express the amount of fun and excitement we had on our trip. Everything was first class from the horses packing in to the accommodations in camp, and the food well… I will get back to you on that!!!! lol The guides were top notch and done everything in their ability to put us on bulls. Had I chose to shoot on the second day, I would have killed a bull as well. The Wrangler was top notch as well as the horses. We all felt like you ran a first class wilderness hunting camp.

Thanks,

Troy
---
Hi Lee,

Just wanted to get back to you with comments on the hunt. Also, attached is a pic of my bull. Just had him scored at 337 7/8. Best ever for me. The weather conditions were a little rough; not quite what we expected for that time of Oct. But overall, a great experience. Jones Creek was by far the best wilderness camp that I've been in. Your set up, stock and gear made the hunt very smooth. Great bunch of guys on your staff; from guides to wranglers. It's always easier to be in a camp where the staff is friendly and seems to enjoy their work. All in all, the hunt was one to remember. Thanks to you and your guys and also to Keith for hooking us up.
Bill Talley
---
Hi Lee,

The hunt was great and was all I expected and more. The accommodations, cook and wranglers were great people. Nate was a excellent guide and went to all lengths to help us get an elk. My camera wasn't working right and Nate has the pictures of my elk on his camera.

Hope we see you again sometime.

Terry Lutz and Larry Paul
---
Lee,

The hunt was outstanding and the guides and camp staff were exceptional. Everyone worked hard the food was great and so was the company. The country was beautiful a little snowy for that time of year though. Again thanks for a great time in camp and in Cody.
Eugene Holloway
---
Hi Lee,

I had a great time on my hunt. I didn't have a chance on an elk, but pulling the trigger is sometime the easiest part of a hunt. Your staff was great. The camp was great and the horses were the best. Usually I'm the "Big guy"in camp and have the ride the biggest horses as Kerry did. It was nice to ride a good horse that could travel the mountains even in the dark. It was nice to have a great bunch of guys in camp that made the hunt a lot more enjoyable. Thanks again for a good hunt and lots of good times.
Boyd Shaffer
---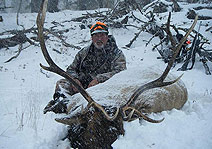 Here's my feedback:

In reference to the camp, guides, cook, wrangler etc. I really cannot say enough good things. You run a great camp with a great crew. Kim's cooking was excellent and there was always plenty to go around. After a hard day in the mountains, it was a welcome treat to have the quality of cooking.

You need about 5 more Colton's. That kid is excellent. He worked his butt off the entire time, was always ready to help and did it with a great attitude. The wrangler can make or break a camp in those conditions and you're getting a great deal with that boy!

My primary experience was with Tom and frankly I found him to be a pain the ass………….just kidding. He did a great job all week and worked his tail off to find me a bull. He's a great partner to have in the woods, knew his stuff and made a really tough environment tolerable. Keep him coming back as long as he wants to guide. While I did not interact as much with the other guides, I did find that everyone was willing to jump into whatever needed to be done and I never heard a negative comment about anyone. That a rarity and something you should take great pride in.

The terrain was tough. Some of the toughest I've hunted when you have to go straight up everyday to hunt and slide back down at night. Oh well….the weather plain sucked but weather is weather. I just wish it would have pushed out more elk.

Hope all is well with you. Thanks again for a great experience and I'm sure happy to have brought home a bull and meat. Feel free to use me as a reference. If my broken down knee can survive that hunt, anyone can go.

Take care,

Kerry Holloway
---
Lee,

What a great hunt. We arrived in San Antonio a little tired but everyone had a fantastic experience. Not just the hunting but the camp, scenery, camaraderie, and staff made the trip something to remember and talk about for years to come. Thanks to you, Jim, Sterling, Cody, and Nancy for everything you did and look forward to doing it again soon.
Clint Ray
---
Lee,

Nice to hear from you! Hopefully, the rest of the season went well and the hunting was good. Matt, Dad, and I all had a great time. I had a blast hunting with Wes and really appreciated the opportunity to hunt with him. I know Matt really enjoyed spending a day hunting with you, and of course Dad with Del. As always, it was first class and we enjoyed the friendship and fun. Hope to come out again and hunt with you soon!
Ben Gabler
---
My name is Levi Keenan and I went on an elk archery hunt with Lee and his outfitters in the fall of 2009. First of all let me say I have been with hunting and fishing guides from Zapata Texas and south into Mexico and then all the way up into parts of Canada and I have never been with an outfit that takes as much pride in their selves and how their clients are tested in the field and treated in camp. Lee's equipment and stock is top-notch. His horses are truly mountain horses, capable to going to extreme's I didn't know a horse was able to go to get you up the mountain and on your elk. I am saying this and I grew up on a ranch and have broken and ridden hundred's of horses. I just can't say enough about how the guides and horses knew every detail of all the trails in a truly wilderness area. On top of that you can put your baby on these horses and they will take care of them like no other animal could. This brings me to another area of discussion. We were hunting in a true wilderness area, there is only 2 ways in and it's on 2 legs or 4 legs. There is no difference in the hunting now or when Bill Cody and Prince Monaco hunted it over a 100 years ago. The hunt itself was an experience of a lifetime. Each days hunt was started off with a big breakfast away before daylight and usually finished with dinner away after dark. The food was not cooked by what I would call a camp cook, Lord knows I have seen enough of those, but the food was prepared by a camp chef. His only job is the clients and guides welfare and what kind of food they enjoy. It was an experience in itself. Each morning a horse wrangler had our horses saddled and ready to go for us and he took care of everything horse related when we go in each evening. This is really important when you hunt as hard as we did each day. I was looking for a true pack-in hunting trip and this was as good as it gets. Now let me talk about the success our camp had. By no means should a hunt be judged by the success of the hunter's. If that's what your looking for go hunt behind a closed fence in south Texas. I will say we had elk in on us every day and these guides kept trying when I was ready to call it a day and wanted to try again the next day. They know every nook and cranny a elk would hide in a grossly enormous area. It is really amazing. Myself and the other hunter all agreed that we all wanted to come back in spite of our success because of the type of hunt and how professional it was managed because hunting is hunting and that's what it is all about and killing is just for keeping score. As a side we had 100% success kill ratio on bull elk with archery equipment from camp, I wonder how many outfitter's can claim that hunting from a wilderness area. If you have any questions you think I can answer or think I might have any input on just ask.
Levi Keenan - Great Bend KS.
---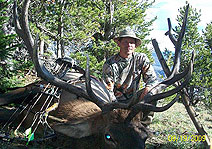 I hunted with lee last week and had the adventure of a life time. He and his crew worked their butts off for us, food was great and hunting was better, the entire staff was fun to be around. We saw bulls every day, and all 3 hunters tagged respectable archery bulls.
Allan Bullard - 275 3/8 gross Bull Taken
---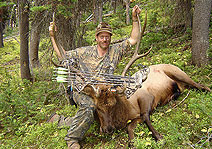 Richard Baltimore